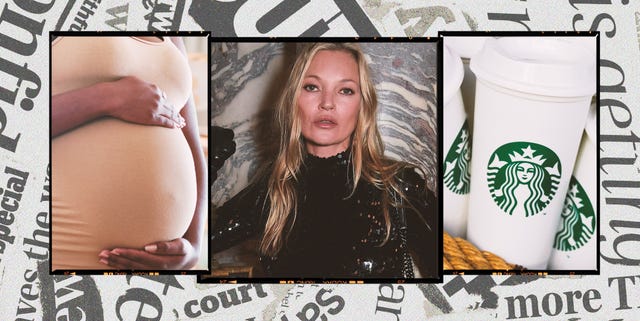 Jennifer Savin/Jaime LeeGetty Images
We're living in a world where's there's a constant barrage of news – and it can be hard to stay on top of it all. Here, our 'News To Know' round-up has you covered, with our pick of six big (and under-the-radar) stories, so that you can breeze your way through any conversation at brunch this weekend…
1) People are struggling to afford period products
Women and period-having people in the UK are being left without access to menstrual products as the cost of living continues to rise. In fact, Citizens Advice said 46% of its debt clients had a 'negative budget', meaning they don't have enough money for essential living costs, like purchasing pads and tampons. One woman who spoke to Citizen's Advice about the issue said her teenage daughter worries that money is stressful for her and so won't ask for sanitary towels when she needs them. "[Instead she] gets them from school, but they're a necessity. It shouldn't be down to the school; they are there only for an emergency," the woman explained.
It's something that Bloody Good Period – a charity fighting for menstrual equity – is keen to tackle. "The UK Government has shamefully not met its aim of period equity, and we want the £250,000 they promised towards tackling period poverty to be bloody used!" they wrote in a tweet, while also sharing a template email urging MPs to take action.
If you're in a position to do so, you can donate to Bloody Good Period here
2) Kate Moss showed her support for Johnny Depp in court
The world's most famous supermodel testified in court for the first time in defence of her ex-boyfriend, Johnny Depp. She was called upon after Amber Heard, who is currently locked into a vicious defamation lawsuit against Depp, said on the stand that she'd heard a rumour Depp once pushed Moss down a flight of stairs. The fashion mogul appeared to clarify that the truth was quite the opposite.
"We were leaving the room [while on holiday in Jamaica] and there had been a rainstorm. As I left the room, I slid down the stairs and I hurt my back," Moss told the judge and jury. "I screamed because I didn't know what had happened to me and I was in pain. He came running back to help me and carried me to my room and got me medical attention […] He never pushed me, kicked me or threw me down any stairs, no."
The trial is drawing to an end, with closing arguments expected to be presented today, and the jury likely to deliver a verdict next week.
3) Inquiry finds evidence of systemic racism in UK's maternity care
A year-long enquiry into racial injustice in maternity care – carried out by human rights charity Birthrights – has found that the safety of Black, Brown and mixed ethnicity women and birthing people is at risk, with more than half of those who took part in the study revealing that concerns they raised about their own or their babies' health were dismissed, ignored or disbelieved.
Those who took part in the inquiry also reported racism, micro-aggressions and harmful cultural assumptions from caregivers, in addition to coercion, incidents of physical and psychological harm, and a lack of choice or informed consent. Birthrights' report comes just months after an investigation revealed maternity mortality rates were more than four times higher for Black women, two times higher for mixed ethnicity women and almost twice as high for Asian women.
The full findings of the research can be found here
4) Sue Gray's 'partygate' report dropped…
And revealed that the Tories were up raving until 3am (on more than one occasion) during various lockdowns and restrictive tiers. Highlights of the report include someone vomiting due to "excess alcohol consumption" at a government official's leaving do in June 2020 – a time when the rest of us were only able to gather in groups of six or less outdoors – and a karaoke machine being wheeled out, along with pizza and Prosecco.
Despite many of the multiple events investigated happening at 10 Downing Street, Boris Johnson is still claiming ignorance and refusing to step down, leaving many questioning: 'If the government can get away with this, as they are right now… then what can't they get away with?'. Several Conservative MPs have now called for their own party leader to resign.
5) Starbucks to cover abortion and gender-affirming surgery travel costs
Starbucks have announced (following their alleged stance against workers forming a union garnering unfavourable press), that they will cover the travel costs for any members of staff who are seeking an abortion. This comes as abortion laws are likely set to be overturned in various American states, making it harder than ever for anyone wanting to terminate a pregnancy to obtain the healthcare they need.
The coffee giant has also promised to pay the expenses of any employees who need to travel in order to obtain gender-affirming medical treatment.
6) Missing person posters get a clever AI update
Sadly, we've all seen them. Posters at bus stops and billboards featuring the grainy image of somebody who has disappeared, seemingly without trace, and a number to call with any information that might help. Now, call outs for missing people, via the Missing People charity, have been given an AI upgrade to make them appear more lifelike and 3D, in the hopes that they'll stick in the public's mind for longer.
The word 'MISSING' will also be replaced with more action-oriented wording such as 'HELP FIND', after research suggests a clear call to action has a better chance of resonating. There will also be a QR code that passersby can scan to report any leads.
This week sadly also marked the tragic shooting at Robb Elementary School in Uvalde, Texas, which claimed the lives of 19 students and two teachers. For those who would like to and are able to, you can donate directly to the Uvalde Victims Relief Fund created by University Health.
This content is created and maintained by a third party, and imported onto this page to help users provide their email addresses. You may be able to find more information about this and similar content at piano.io